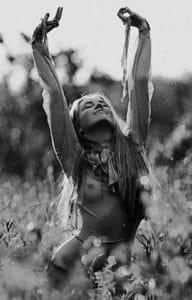 Tantric Movement is a synthesis between movement and breathing, a journey of re-connection with the body, with the feelings that reside in it and a possibility of a renewal through acceptance and spontaneous movements. We will learn to take risks, to leave the comfort zone, to throw ourselves into the experience and let it transform us.
The essence of freedom lies in the fact that we can change the way we feel, think, our worldview, so that we can act more widely and effectively.
This is a work with remarkable results and worth a try. A gateway to the path of Tantra, Tantric Movement manages to use precise techniques of improvement in a spontaneous and natural way, characteristic of Tantra.
Currently we work online, where our students can begin their learning in Tantra in a private way, becoming familiar with the techniques and understanding how to enter the meditation processes.
If you are interested, you can register for our free online course to understand a little about our method.
The free online tantra workshop is designed for people who:
1-Want to get started in tantric techniques
2-Wish to develop sensorially to reach higher and expanded orgasmic levels
3-They want to create more loving, true and deep bonds in their relationships
4-Wish to bring a meditative quality to the use of sexual and vital energy
5-They wish to prepare themselves for more advanced techniques related to sexuality, such as tantric massage techniques
6-Want to awaken and experience a sexuality that involves the whole body through the use of bodily senses
7-Want to understand the main addictions and blockages that most people have in their sexuality
8-They want to know better how orgasmic mechanisms work in both the male and female bodies
9-Want to participate in a learning community, with real people, focused on tantric sexuality
10Men who suffer from sexual dysfunctions such as premature ejaculation and difficulty with erection
11Women who suffer from lack of orgasms and would like to improve intimacy and connection with their partners
It is a new look at human sexuality. A meditative, expansive, sensory and deep look. A way to combine sexuality with self-knowledge and integrate sexuality, meditation and relationships.
"In the East we have developed a science: if you can't find a soul mate, create one. And that science is Tantra. Tantra is the science of turning normal lovers into soul mates. And that is the greatness of Tantra. It can transform the whole earth; it can turn all couples into soul mates. "Osho.
A new sexuality awaits you!
Comments